VIETNAMESE CONCRETE PLANTERS MANUFACTURER & CERAMICS PLANTERS (GLAZED POTS) SUPPLIER
"it is not simply selling good products, we offer our best service to clients as well"
I. WHO WE ARE
At Rosie Pottery, we are proud to supply cement plant pots and planters with ethical materials in Vietnam. Working with a team of 40-50 workers, we can stably supply from 10 to 15 cement planter containers per month. Either you love simple or needs a fresh touch of color, our beautiful collection of cement planters will spice up any corner of your garden, window sill, or housewarming gift. Each one is truly unique, hand-crafted with industrial concrete and hand painted.
Rosie Pottery takes pride in our commitment to supply the ceramics planters (glazed pots) while enhancing the lives of artisans behind their creations. We always believe that our collection of Glazed pots is so much more than just products made by hands. With the belief in Vietnam Pottery and its potential, the handmade ceramics plant pots will definitely take décor to the higher level. Binh Duong Province has been well-known as the birthplace of Vietnamese Pottery, so each piece is entirely handcrafted from local sources. That means the purchase of these products is not only your interest but also social responsibility and environmental friendliness.
II. KEY ACTIVITY
Our main activity will be Exporting. Based on the mission of contributing the strong relationship between Vietnam planter factories and importers around the world, we always try our best to arrange the whole process from manufacturing to shipping. Thanks to this activity, Rosie Pottery team is sending a message to spread the Vietnamese pottery reputation and the value of Vietnamese craftsman as well.
III. KEY RESOURCES
Skilled Labor: Our workers come from many different provinces spreading throughout Vietnam with the great diversity of various cultures, we have the excellent opportunity to create new ideas. The mission of Rosie Pottery is always sent to every sigle person in order to fully understand what we are doing and aiming for. In that case, although each person of Rosie Pottery has the different responsibilities, we have the same goal and stay in the same boat to strive together.
Ethical Materials: Our main materials are sourced and collected in Vietnam. Two of main materials are Natural Clay and Cement being available in the southern region of Vietnam. Moreover, the environmental friendliness from these materials has considered a major competitive advantage of Vietnam in comparison to others countries in the globe.
Quality Assurance (QA): At Rosie Pottery, in order to ensure that product quality meets the the client requirements, quality assurance is the compulsory process. Through the QA process, the product quality will be maintained, and the manufacturing defects will be examined and refined. There are 3 main stages of our Quality Assurance as follows:
Step 1: Incoming Quality Control: The purpose of this process is to inspect the raw and component materials from suppliers upon arrival. When detective parts are found, we will negotiate with the suppliers for return or exchange, and the final purpose is to make sure our product quality will not be affected.
Step 2: In-process Quality Control: During the production time, we carefully control specifications (time, temperature, humidity,...) of each steps in the process from raw materials to the finished products.. This is the most vital stage because we can detect and handle problems occurring ahead of time.
Step 3: Outgoing Quality Control: Before shipping, the way that package and load products is paid attentions to ensure that the shipment is defect-free.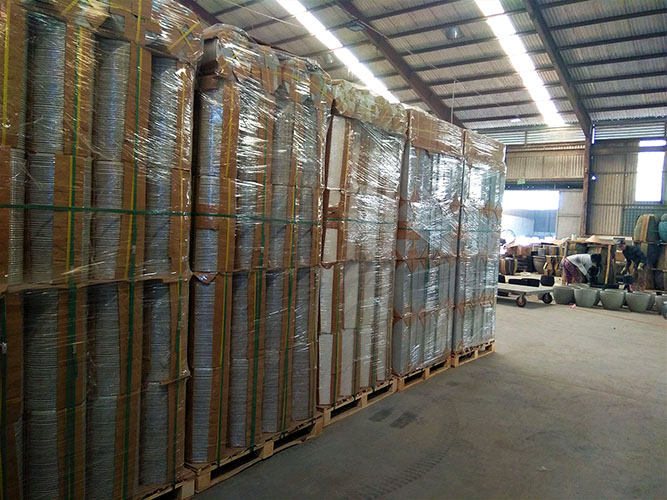 IV. VALUE
At Rosie Pottery, we have focused on seven values and worked based on these values to provide the best products as well as great service:
High and Stable Quality of cement and ceramics plant pots.
On time Delivery: We have set up the detailed schedule for each shipment and try to being on time. In the meantime, we will update the process of the orders to our clients through the photos or videos of products frequently.
Shipping Management: Our logistics team will support you during the shipping process and make the documents for your shipments. In the case that you need our help in finding the container lines, we can offer you the best prices of ocean freight to select and decide.
Save cost: The cost that can be saved when you buy from the local factories with the best prices. Also, the cost we mentioned mean that waste cost and time when you choose the not good suppliers in Vietnam.
Customer Service: Our team will support you with the detailed information of pots, terms and conditions also. Whenever you need our helps, please don't hesitate to contact us for further information. We are always willing to support you.
Social Responsibility: Based on the ethical materials in Vietnam, we are proud to bring the handmade products with enhancing the creations of our workers. Purchasing our products also means that you are supporting and giving the job opportunity for the craftsman. Our objective for taking business decisions is not merely to maximize profits but also to serve and protect the interests of other members of a society including workers, consumers and the community as a whole.
Reliable Agent: We would like being the reliable agent for cement and ceramics plant pots in Vietnam. The place that you can believe in and develop the business together.
VI. CHANNEL
Due to the International Business, we utilize mainly Website and Mail to do business. Additionally, some social apps are used like Whatsapp, Viber, Skype, Wechat and Zalo. Moreover, you can keep in touch with our latest concrete and glazed items through Instagram and Pinterest. 
One more thing, if possible, we are looking for the meetings with our clients by face-to-face communication. We would love to meet you and discuss more about what we are doing and providing you. Furthermore, a connection by Exhibition which are organized in Vietnam annually is also important. 
VII. WHO ARE OUR CUSTOMERS?
There are four targeted groups of our customers around the world:
Plant and Flower Store: We would like to send the best offer for Plant and flower shops that can be mixed many designs of cement and ceramics pots. This can facilitate your stores to have the wide ranges of pots with many colors and styles.
Planters Wholesaler: We are sure that the best prices for Wholesaler Clients will be offered to you. We can deal with the large orders and guarantee the production time.
Interior and Exterior Designer: We always give the opportunity for designers to make their designs come to the actual products with nice finish and exact dimensions.
Planter Lover: If you are planter lovers with the small quantity, we can supply to you thanks to the flexibility of our own production.